SunEagle and West Eagle Drive area on the north end of Salt Spring Island BC. At the end of SunEagle, there is a Park, called SunEagle Linear Park, that has a trail down to North View Place. It is a very easy hike down but the climb back up is a tough one.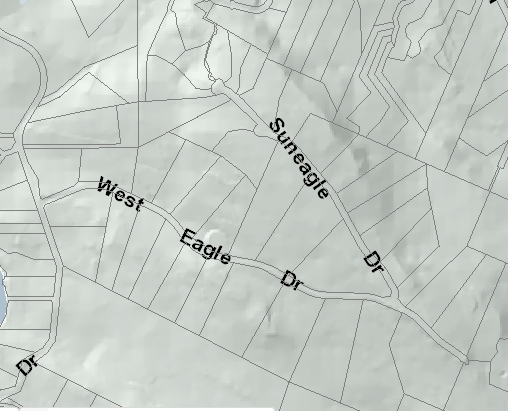 In the same area is North View Nature Reserve. It is primarily a reserve which is not the usual type of park but one that is trying to keep the land in a natural state. There is no public access to this 17.8 acre (7.2 hectares) reserve. The Salt Spring Island Conservancy received this land as an anonymous donation in June 2008. They have completed a baseline study to determine what is in the reserve.
From a Geology point of view, the area is in a formation called DeCourcy Formation which is thick-bedded sandstone and arkosic arenite with a minor pebbly conglomerate. The big black O's are wells. This information comes off the Salt Spring Island Geology map which was completed in 2009 by Hugh Greenwood and Mitchell Mihalynuk. Hugh did this Geology map, which is very rare, on his own dime. Most of British Columbia does not have maps like this.
Most of the surrounding area is Rural zoned with some of the streets being RW1 (Rural Watershed 1). For all local zoning check bylaw 355. It will cover what you are allowed to do and not allowed to do. The area south of the heavy black line is RW1.
Note: This is only part of the info on Bylaw 355. Check for an updated version and read the entire section for more info on RW1.
Here is the history of Suneagle and or West Eagle Real Estate on Salt Spring Island. I have left out the addresses but if you would like the complete list, please email me.
Cheers,
Scott & June Simmons
The Salt Spring Team