I have been planning to hike both Mt Tuam trails for a while and since I had to drive my son to work at 8 am I thought today would be the day.  The weather this winter has been so mild that I knew there would be little to no snow up on top of Mt Tuam.  Here is the trail map I downloaded for the trip;  Mt Tuam.  By the time I found the trailhead it was 9 am.  Glad I left home early, with one little stop at Embe for a coffee and treat (hot out-of-the-oven apple fritter).  The trail up the old logging road was really not that hard of a walk.   I made the first stop at the east navigation light.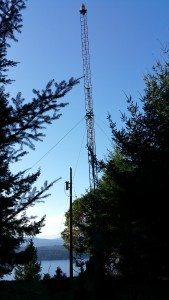 I took this picture and put it on Twitter saying if anyone (except @saltspringsoap ) knew where it was they would get a free coffee.  Of course, Gary @saltspringsoap  tweeted the location.  Gary does a lot of local hiking and never misses a chance to get a free coffee.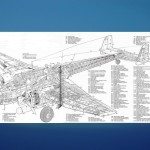 Farther up the logging road I came across what appeared to be airplane wreckage.  See photos below.  June really despises my liking of the TV show Mayday I'm actually not sure why I like it but do find it interesting.  The amazing thing about hiking on Salt Spring is one usually gets cell phone coverage.  With a quick google I found out about a crash on Mt Tuam but it was not this wreckage I was looking at.  Here is the page I found TSB Aviation Investigation Report the crash site in the report was farther up the hill and not the parts I was looking at.  These parts seem bigger and heavy they might not be airplane parts.   Will have to do a bit more research on this crash which I have done and updated this page.  The parts are from a crash on Oct. 4, 1942­ when P/O Norris Thomas, RAF, (THOMAS_NORRIS age 27 )  died, alone, when his Hampden crashed and burned on Mount Tuam.  Here is a cutaway drawing of a Hampden, note the parts around the motor;  Also during WW2  on Jan. 14­, 1944 – Sgt. Pilot H.C. Birch, RAFVR, (BIRCH_HAROLD_CHARLES age 19) flew another Hampden AN136 into Mount Tuam, this one struck at the 1500-foot level, Salt Spring Island ­within 500 yards of Hampden AN 105.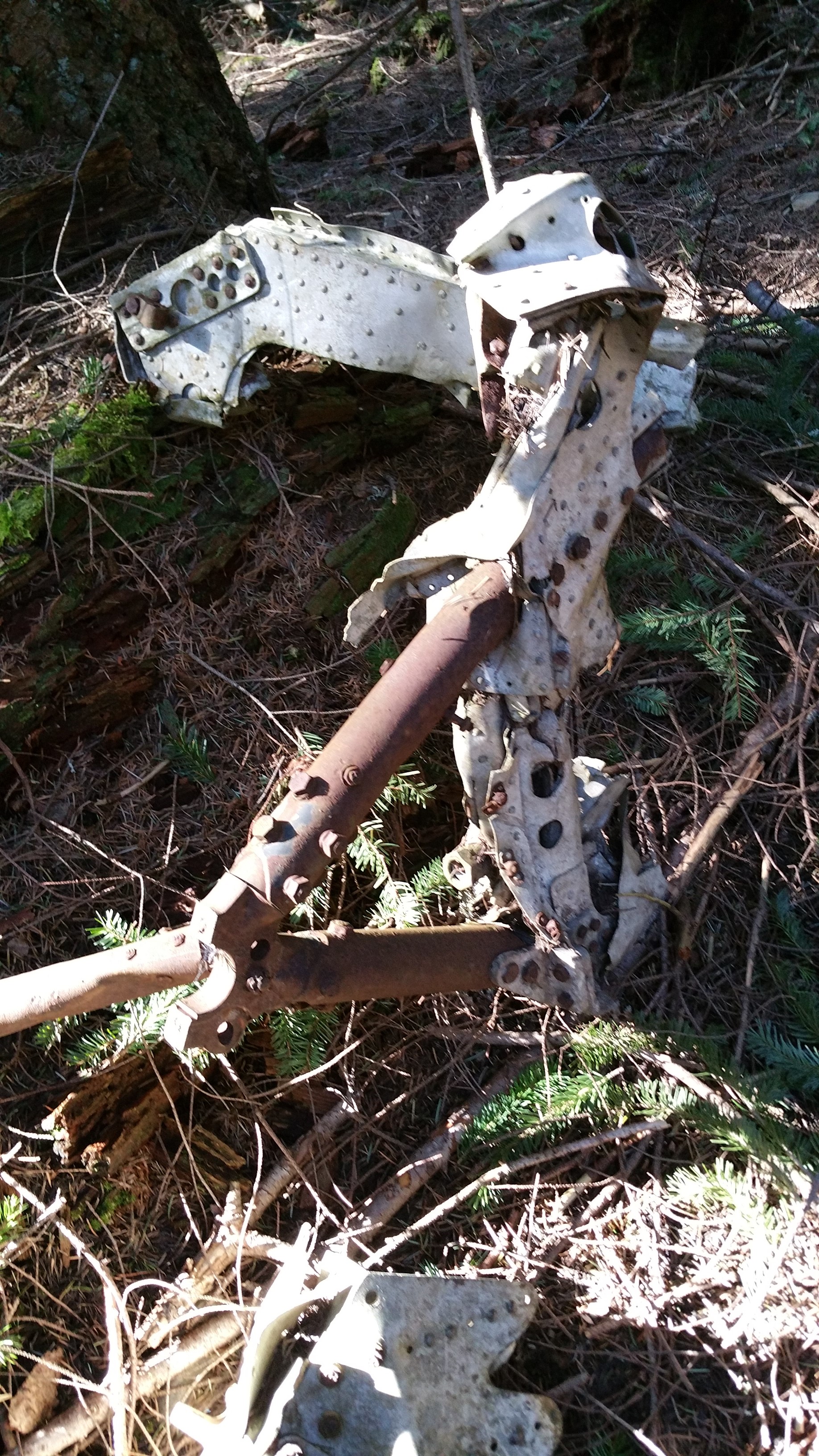 I made this video as a November remembrance video for PO Norris Thomas

After leaving the crash site I headed for the summit. The view is worth the hike, from the summit of Mt Tuam, one can see forever.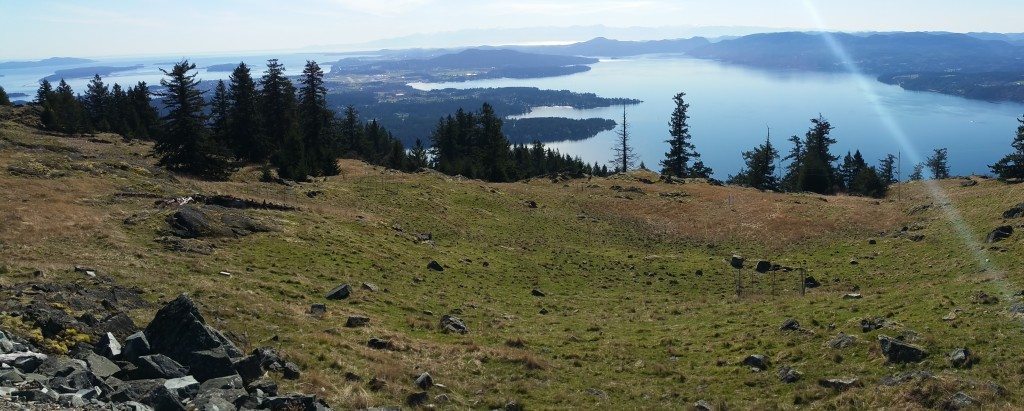 I could have taken a few more panorama shots but with the price of film and all.  One can see from Vancouver – Victoria and to Vancouver Island.  It really is amazing to see.
Finally, after a long hike, I took a break.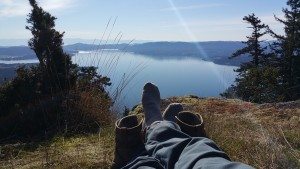 Good thing I had my backpack full of good trail food.  It was such a treat to have a day off and enjoy the island.  After 14 years I'm still finding new places to go and new adventures on Salt Spring.
Below are snippets from the local paper on the crash of the bomber.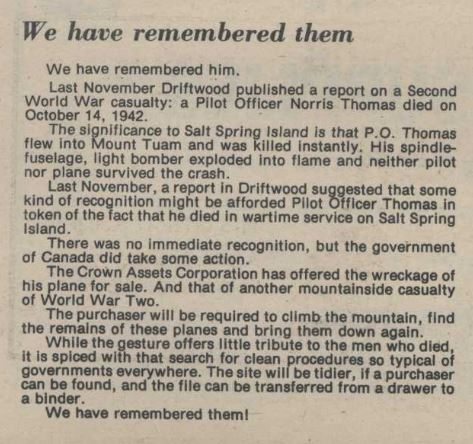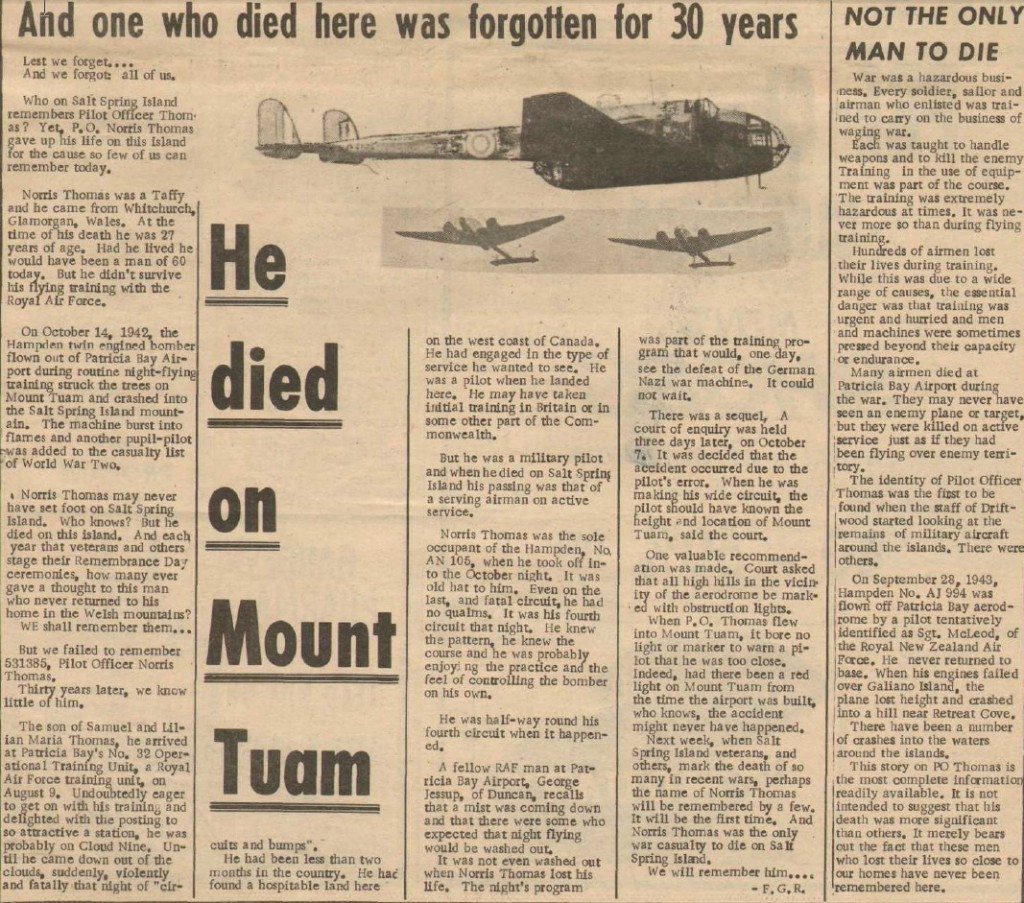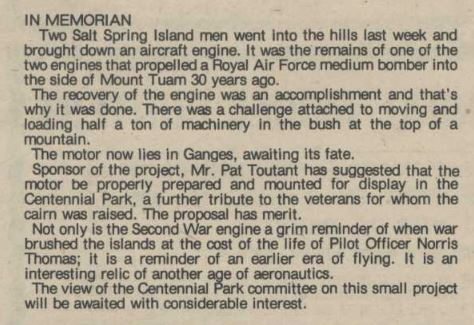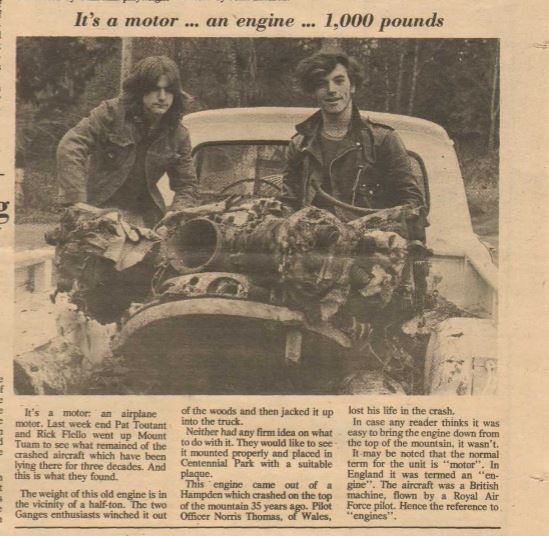 [clearboth]
After doing some more research I found out that what was left of the aircraft on Mt Tuam was removed from the island and ended up in Langley BC at the Canadian Museum of flight.   The museum used the parts from the Salt Spring aircraft as parts to rebuild an aircraft pulled from the ocean.  At the museum, they have one of the only intact Hampden aircraft in the world.  Here are some photos of it.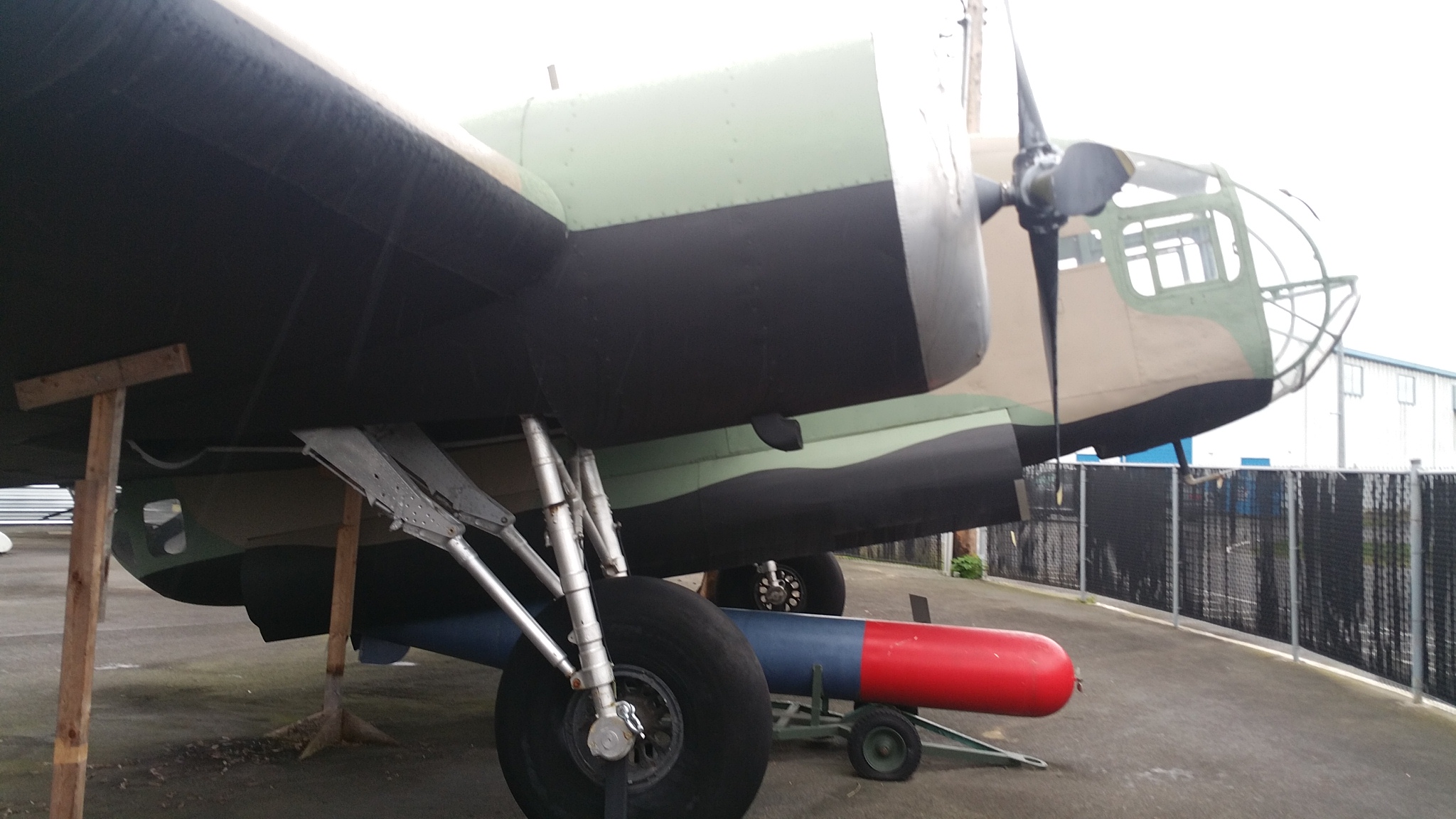 Cheers,
Scott & June Simmons
The Salt Spring Team