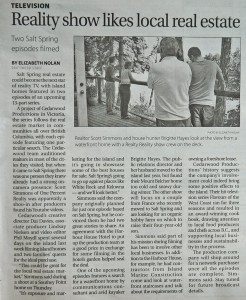 So glad shooting for the new Real Estate TV show "Realty Reality" is over. It was a lot of work. It all looks so easy on TV but in reality, it was not easy. I think they were waiting for the "moment" to happen. You know the big fall down the steps or fall off the dock. I think they did shoot a few moments hopefully they will end up on the cutting room floor. The worst part was actually getting all the leg work done before the show. As the host, I had to do all the groundwork such as finding the locations and teeing it all up. The producer Lindsay was a real treat to work with. She is organized, fun and thinks fast. Here is the article out of the local Gulf Island Driftwood newspaper paper.
The reporter (Driftwood's Elizabeth Nolan) from the paper did use her flash while shooting a picture and ruined the best take of the day. It is hard to deal with paparazzi while on location. For a behind-the-scenes look at the show you can watch the video Alex Denny shot while the crew was shooting the show.

Salt Spring Farm episode

Salt Spring waterfront episode trailer

Modular homes on lots Season 2


Behind the scene video of Realty Reality by Alex Denny

I think I will stick to real estate and not become a TV star. It is one of those hard decisions one has to make. Sorry TV world. How could I give up all the fun of being an agent on Salt Spring?
Update article about the Realty Reality TV show in the Vancouver Sun Oct 24, 2013
Vancouver Sun article about Realty Reality
Cheers,
Scott & June Simmons
The Salt Spring Team