Packing correctly can simplify the burden of the entire process for a household and potentially their moving company. By packing smart, using proper protocols, and paying attention to the details, things can be ready to go far before the movers arrive and ready to unload upon arrival. Here are some tips for busy home sellers to ease the packing and moving process.
Get Rid of the Junk and Organize the Rest
Cutting back on possessions is the easiest way to simplify a move before the packing even begins. Get four piles going for every section or room of the home being gone through consisting of items to keep, throw away, donate and sell. No time to sell before moving day? Add those to the donate pile, and don't forget about local 'freecycle' sites as an option for local or national donation drop-off organizations. However, there are likely donation options for everything home-related,  so there's no pressure to take unnecessary items others can use.
Snap Pics of Gadget Hookups
Avoid looking for instruction booklets on how to hook up televisions, stereos, cable boxes, computers, dvd players and other electronics by snapping a few pics of the device's back. This serves as a ready-to-go manual that streamlines hooking everything back up upon arrival at the new abode. This tip can apply to just about anything that has a complicated setup or multiple plugs. It's also great to get some zip ties to keep cords organized, and in doing so certain cords may not even need to be unplugged for the move.
Prep With Proper Supplies and Pack Right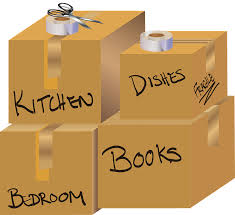 Running out of supplies can delay everything when moving to a new home, so be prepared with ample boxes, tape, protective wrap, cutters, etc. Most of these supplies can be obtained by the moving company hiring a storage facility or at a local grocer or hardware store. Free boxes can even be found at local stores—just ask the manager. Avoid using trash bags for 'keep' items, as they could be disposed of mistakenly. Be sure to properly assemble moving boxes and pack them according to proper recommendations, with heavy items on the bottom and light items on the top of boxes. Have a variety of sizes on hand to avoid making boxes too heavy to be moved around in the new place.
Help Movers Help You: Label Every Box By Room
Avoid having to point and say, "That room, this room, over here" by properly labeling every box as to its final room destination while packing. Label the room on every side of the box to maximize visibility and reduce the mover's search efforts. Include a smaller itemized list on the box too in order to ease the search when looking for 'must-have' items upon moving in.
Separate By In Last, First Out
While labelling boxes, also specify WHEN the box should be loaded. Specifically identify whether that will be early in the process or as a final box going into the back of the truck that will be unloaded first. Those first out items typically consist of linens, kitchen and bathroom necessities, food items, electronics and other personal items that will be needed right away.
Pack a Last Minute Bag for the Transitional Phase
If there will be a few days passing between the time of departing the old home and arriving at the new one, prep a suitcase with everything needed until the family and the movers get to the final destination. As opposed to other situations, this might be one time in which packing a bit too much may come in handy, as unexpected incidences could delay timely travels meaning more could ultimately be just right.
Anthony Gilbert REALTOR® ABR®
Guest Blogger
The REALFX Group – Washington
7829 Center Blvd Suite 309 
Snoqualmie, WA 98065