In Response to the August 20th Driftwood article "More Planning crucial for a healthy economy"
As John Tylee, chair of the Salt Spring Community Economic Development Commission, states in last week's Driftwood; "The last decades have seen tremendous advances in understanding how to create exciting places. Encouraging downtown living to maximize after hour activities, making the most of water features, ensuring public spaces are easily navigable for pedestrians, and providing wayfinding so visitors feel safe to explore — these techniques are successful throughout the world. But they are conspicuously absent in Ganges."
I totally agree with the statement above. Cities and towns around the world are seeing benefits of building a livable, workable, walkable core. There seems to be a worldwide trend against the car-dependent suburban/rural sprawl development model that dominates the Salt Spring landscape.
If "Salt Spring" could build up Ganges, in the process it could gain the following: 1) A larger location, for NSSWD, to build a water treatment plant thus avoiding the restrictive Tripp Road location. 2) Extinguish the future cost of building a new fire hall in the north end. 3) PARC could have land for a much-needed multi-sports field complex. 4) The island could get a much-needed industrial/business park.
Could all this be done?
The basic idea would see Salt Spring purchase the bankrupt 830-acre Channel Ridge development for approximately $10 million or so. The purchase would include the 306 transferable lot densities, 17 strata lots that are almost ready to sell, the right to build 75,000 square feet of buildings in the village area and the 65-km trail system.
The 306 densities could be sold in blocks of 37 units to developers who could buy 1.2-hectare properties in Ganges and build condo buildings. Ganges could end up with eight or so six-storey condo buildings. An example of a receiver lot, in Ganges, could be the current Irwin Collision auto body shop land. Here is the Island trust map which shows the donor and receiver areas on Salt Spring;ssbylbaseocp0434map26
Let's just say for argument's sake that the lot densities could be sold at $50,000 each for a total price of approximately $15 million. The 17-lot strata subdivision could be sold as a package to a developer for, let's say, $1.7 million.
The Channel Ridge village site could be rezoned commercial/industrial and sold as a packaged mini business park with 10 subdivided small industrial lots.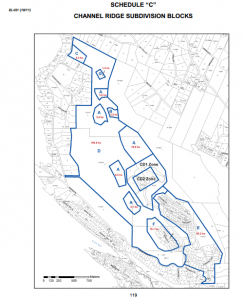 The business park might fetch $2.5 million or so.
In total, Salt Spring could potentially make approximately $9 million plus all the yearly property taxes that could help subsidize our pool, library, transit, fire service, schools, etc.
Some of these funds would need to be spent on increasing the Ganges sewer capacity, buying a ladder truck for the fire department and maybe subsidizing all the water districts on the island proportionally, thus relieving the beleaguered water district property owners.
At the end of the day, Salt Spring could change and be a greener island with less car-dependent rural/suburban sprawl and have a built-up walkable Ganges with approximately 500 or so new residents living in the core.
Please note that this article is not about incorporation and or the roles of local government. This is about the ideal of what could happen if we all worked together for the common good of the island. I have used the term "Salt Spring" as if it was an all-encompassing entity.
Here is an information sheet about Channel Ridge properties. Channel+Ridge+Brochure Please note Channel Ridge has sold for 6.6 mil.
Cheers
Scott Simmons
Please note this article was published in the Driftwood on August 27, 2014.