My clients bought this dated salt spring home and are upgrading it.  The home was built in 1996 and is structurally 100% perfect.  It seems as if the original owner skimped on the finishing.   The main upgrade Alex (salt spring master carpenter) will be doing for the owners is re-finishing the oak hardwood floors.
Audio clip about home facelift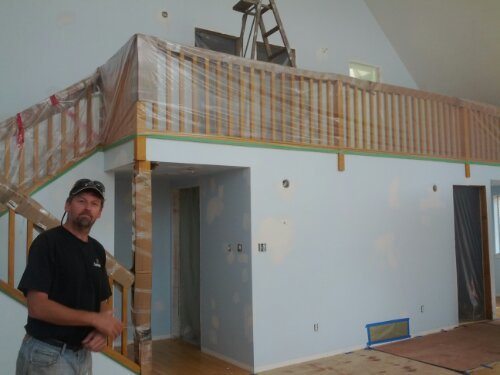 The second biggest part of this upgrade will be painting the 4400sq ft of wall space. The overall effect of this (approx 30-40K) facelift will be the owner will have a modern updated home. The money they spend will be an investment they can use.  They were fortunate to buy a home that needed some work and bought at what I would consider below market price.  They bucked the trend and bought one of the homes that fall in the 90% group of Salt Spring homes that need work.
This seems to be the best spot to look for deals. With 90% of the buyers clamouring over 10% of the Salt Spring homes that are in mint shape it pays to look at the Salt Spring homes that are structurally perfect but just need a face-lift. Salt Spring home construction and or renos don't have to be complicated if you have a good structure to start with it can be really easy and rewarding.
Cheers,
Scott & June Simmons
The Salt Spring Team