The Salt Spring property market has been going strong for three years now, but what does it really look like? Is the market slowing? What does a healthy market look like? Are the listings heating up, cooling off, or staying constant? Whether you are currently looking to buy or sell, take a look at what happened in this year-end market update.
What happened in 2022?
The year started with low inventory, low interest rates and strong demand for which continued the upward pressure on prices until May. The Bank of Canada started hiking interest rates in the spring of 2022 and consumer confidence changed. The higher interest rates have made buying a home much more expensive for many people and priced some out of the market.
The rising interest rates diminished consumer confidence, causing many buyers to postpone home-buying decisions. There were several listings in the $1.4 million–$2 million range as a result of these conditions. For the first time in a couple of years, some buyers were able to shop around and choose the best value without competing bids.
After a little spike in September, sales leveled out for the rest of the year—falling with typical seasonal trends but also due to further mortgage rate increases.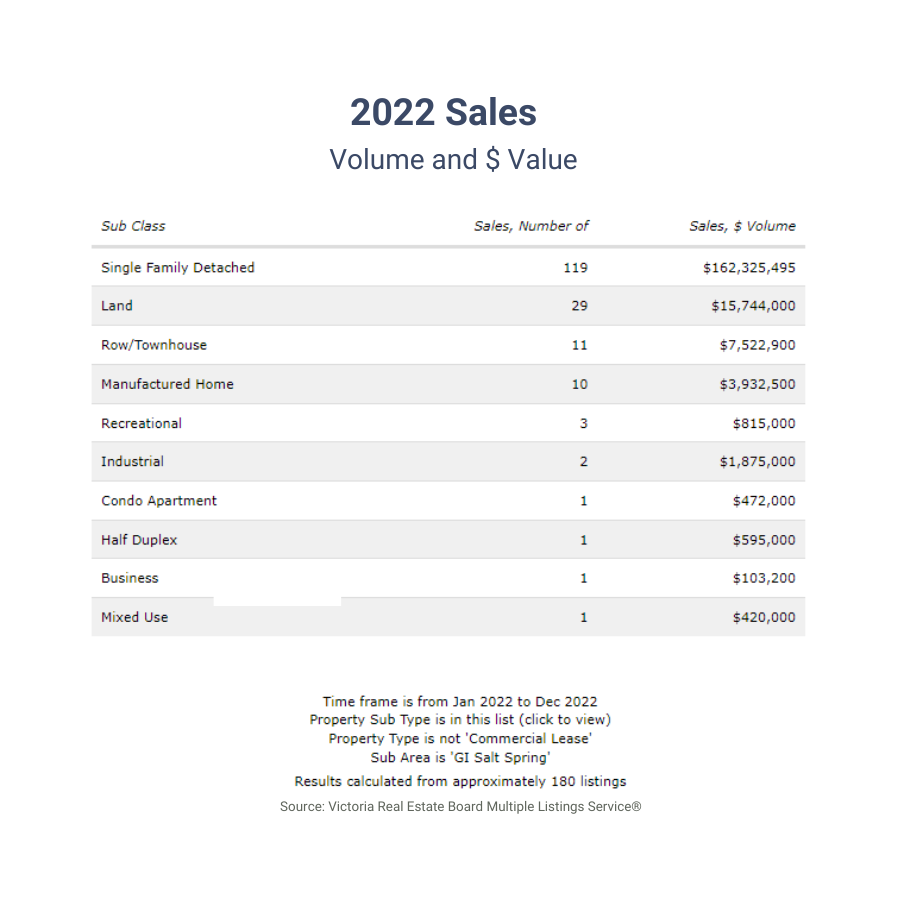 There were 174 sales in 2022 totaling $191,406,895. The number of sales was significantly lower than 2021 (268 sales $249,956,436) and 2020 (238 sales $183,790,383) but this was not totally unexpected. COVID, working from home and migration out of the cities resulted in increased demand on the island in the prior two years.
The median price for residential properties rose to $878,000 from the 2021 value of $772,500. The median price is the point at which half of sales are above and half are below. The median price is the most typical indicator of market value, as it represents the middle ground between the high and low ends of a spectrum.
The 2022 Salt Spring real estate market review is laid out in chart and graph form below. The numbers are from the Victoria Real Estate Board multiple listings service and represents a good overview of the Salt Spring Island's property market. Some additional sales are not captured in this data including listings on other boards, exclusive listings and private sales.