Here is a summary of 2018 in chart and graph form. This was one busy year for Salt Spring Real Estate, in one 14-day period I sold 10 Salt Spring homes which was a crazy time for me. Trying to organize home inspections, septic inspections, WETT inspections and whatnot was a trying time but it all went well. Amazing how it all hit at once, clients who I had not seen in years were here to buy a Salt Spring home and or offers came in on homes I had listed.
"It is the mark of a truly intelligent person to be moved by statistics." George Bernard Shaw
Historical Review
Salt Spring Island real estate was a buyers' market from late 2008 (financial crash) until the spring/summer of 2015. The low of the market was probably 2012/13. Since 2015 Salt Spring has been a sellers' market with prices trending up.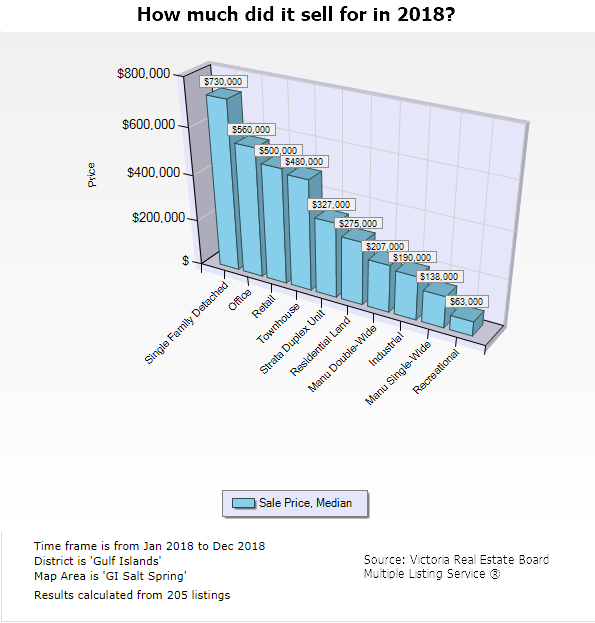 We have used median values when possible. It is the middle value which means ½ the numbers are below and ½ are above the statistic given. The average value is different. To calculate the average you add all the values together and divide by the number of values. Here is a graph that shows how different the results are.
"There are three kinds of lies: lies, damned lies, and statistics." Benjamin Disraeli
The Victoria Real Estate Board Multiple Listing Service ® is the source used for these Salt Spring Real Estate statistics. The total numbers might be slightly different due to private sales and sales on other Boards.
If you are wondering why the Salt Spring BC Assessment value is sometimes very different from the listing or selling price of Salt Spring Real Estate, there are a few reasons. Most of the properties are unique and work is sometimes done without building permits. One of the many reasons why working with a realtor who knows the market is important.
Cheers,
Scott & June Simmons
The Salt Spring Team