As lots of you know I like to find out about ever thing pertaining to Salt Spring real estate. Especially if it's for sale. I have been working on putting up a few new web site pages up on some of the various developments on Salt Spring over the last few weeks. Maybe you have checked out one of the pages like this one Bishops Walk Salt Spring. What I have been doing is visiting the developments and going over everything from the plans to the driveways, wells, views, etc… It's really convenient when there are no homes and it's all open. I can go by and get all the info I want as long as I have permission to visit the lots. Part of my process is to shoot a pricture of the wells and capture the well ID plate number.
Here is a photo of a well with an ID plate. You can see the 5 digit number.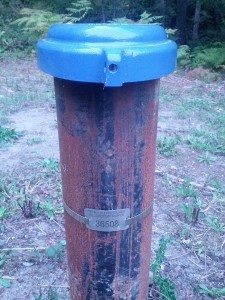 With that number you plug it into the provincial data base here
and you will see the well report.  It's simple.  They have a good well.
Now please try and put these number in;
Did you get any results? What the heck? This is a new subdivision. This should not happen. I will be checking this out a little "deeper".

Cheers
Scott Simmons