Tonight the Salt Spring Island CEDC (Community Economic Development Commission), which is a sub committee of the CRD (Capitol Regional District),  put on an information night on what they have been doing for the last 3 years or so.  This pdf will explain local Salt Spring local government organizations; Salt Spring Island Local Governance Below is a recording of the main presentation.  The first person speaking is our CRD director Wayne McIntyre.  He introduced the CEDC chair John Tylee at the time of 3:50 on tape 1.  In total it's about 45 minutes.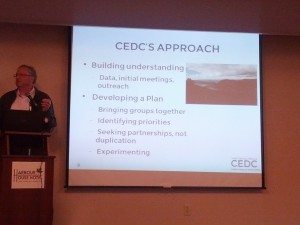 Part 1
Part 2
John really lays it all out about Salt Spring.  He goes over our problems and solutions.  Yes the island has some problems but as John states we are blessed with natural capitol and great human capitol and both are sustainable.   It's an excellent presentation and well worth your time if you are thinking of calling Salt Spring home.
Here is the official slide show that goes with the audio clip. resilientsaltspring_cedc planoct2014
One of my complaint about the CEDC was this year on behalf of the Arts Council I organized a social media day for Salt Spring.  We had various speakers on topics from facebook to twitter.  The CEDC said they would sponsor the event for 1k. The money was to be for honorariums for the speakers.  I gave them 6 months notice of the event and did numerous interviews and at the last minute they made up an obtuse request form.  At that point it was to late for them to participate.  The social media day was a success we had over 70 participants who are using social media for their small Salt Spring artisan business.   I only mention this complaint because John made several references to the need for social media training in his speech and I gave them an opportunity to participate and they did nothing but lip service.  It was very frustrating experience trying to "partner" with the CEDC.
For readers information this presentation is a month before the local election.   In some ways the CEDC has done not much but try and make the CRD look like it's actually doing something.  Again my biggest complaint is commercial property tax rate on the island and this topic never comes up by the CRD.   Governments don't like to talk about over taxation.  If they cut the commercial property tax rate to be the same as residential we would see investments in commercial properties and new business created.  Who want to buy the Vesuvius pub and pay the 30k plus per year in commercial property tax? Anyone?
On a positive note the CEDC is going to sponsor the Arts Councils 2015 Juried art show which will hopefully become a national event showcasing Salt Spring as an arts destination.  I do hope they actually follow through with this pledge.
I hope this post helps explain the odd way Salt Spring is blessed but challenged.
As the old saying goes "when the government says they are here to help it's probably time to run".
Cheers
Scott Simmons