CFSI Radio Real Estate show chat with Vancouver Island REALTOR® James Andersen. He works in Victoria but is moving to Parksville this summer.  James has been with One Percent Realty Vancouver Island since 2007.  Here is a link to his web site Island West Coast Living  James twitter handle is @islandwestcoast .
The podcast below was recorded live on CFSI 107.9fm on Salt Spring Island BC.  James has some really good stories such as the one on the first clip. It is about his clients wanting to buy but had no money.  There were waiting for a money transfer from Nigeria.  They wanted James to give them $3000 before they bought so they could get the $3mil sent to them from Nigeria.  It's a good true, hard to believe, real estate story.   At the end of the second clip I ask James the standard question will other agents show a One Percent Realty Listing?
The best part of having James come over to Salt Spring to be on the CFSI Radio Real Estate show was he was kind enough to buy lunch at Bruce's Kitchen after the show. If you have not been to Bruce's the sandwiches are to die for and don't get me started on his chili.  It is sooooooooo go. The good news is that I did not miss out on my 1000km challenge today.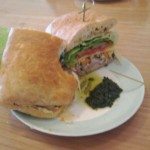 Thanks for the lunch and fun Real Estate chat.
Cheers
Scott