Updated Feb 13, 2012
CFSI has been sold to a Surrey BC Company.  Satnam Media Group (BC) Ltd. (Satnam BC).
Attached is a letter that came from the CRTC regarding the sale. CRTC CFSI Letter
Some of the programmers meet with Mr Sukhdev S. Dhillon owner of Satnam Media group on Feb 11, 2013 at the Harbour House hotel on Salt Spring.  The meeting went well.  Mr Dhillon said he hopes to build the station and retain the community feel of the station.
About 30 programmers meet up on Salt Spring on the night of Feb 12, 2013. It seemed to be unanimous that we are all looking forward to working with Mr. Dhillon. It seems as if our goals are the same; building up CFSI and making it a fantastic local Salt Spring community station. It was a consensus that the programmers will be warmly welcoming Mr. Dhillon to the island. There will be an official welcome letter going to Mr Dhillon. I personally want to congratulate him on his purchase of CFSI.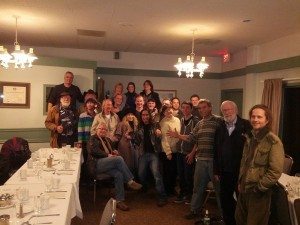 Here is another link with more info about the sale.
Link to the Driftwood article about the sale.  
Article in the Times Colonist newspaper about the sale of CFSI Saltspring radio station..
Scott Simmons
Art Beat Radio Show.  Please feel free to comment below.
Found this on line from the Globe and Mail It will give readers a historic snap shot of CFSI fm.
COMMUNITY BROADCASTING
Saltspring hippies put good vibrations on air
Eclectic mix of groups vie for slots as island residents win
approval from federal regulator for radio station
SHANNON MONEO
Special to The Globe and Mail
November 9, 2007
VICTORIA — Saltspring Island's eclectic mix of 11,000 residents should be tuning into the island's first radio station by May, and already they're clamouring for air time.
"I have a woman who wants to do a Scrabble show. She wants us to broadcast the game while they're playing," said Richard Moses, who with fellow Saltspring resident Gary Brooks got federal approval for 107.9 CFSI-FM. "We're going to have everything under the sun."
It's no wonder.
Saltspring is a fabled place where middle-aged men and women with flowing hair still wear tie-dye shirts and hitchhike. Magic mushrooms and dozens of heritage apple types are harvested. Soap-makers and organic cheese-makers sell their wares at the funky and famed Saturday market. And pot growing isn't panned.
If a Saltspringer wants to air marijuana gardening tips, that will be fine with 74-year-old Mr. Moses.
"We want the station to grow out of the island," he said, tongue firmly in cheek, about a place still painted as a hippie haven. "It [hippie] is a bit of a dated term, but the spirit is there."
As station program director, Mr. Moses wants organic farmers and alternative health practitioners to pile into the as-yet non-existent studio to broadcast informational shows.
Many of Saltspring's special-interest groups, numbering some 150, have indicated they want air time, said Mr. Moses, who spent two decades working at community radio stations in Toronto and Edmonton after moving from New York in 1971.
Listeners can also expect lots of salty dialogue during open-line shows.
Folk singer Valdy told Mr. Brooks that Saltspring is an argument surrounded by water. "There's a lot of hot-button issues we can talk about," said Mr. Brooks, a semi-retired entrepreneur who came to Saltspring from New Mexico five years ago and couldn't believe the island didn't have a radio station.
Initially, the station will air about 16 hours a day and eventually work up to 20 hours, from 6 a.m. to 2 a.m., Mr. Moses said.
Toned-down, spoken-word ads read by retired radio announcers or actors will replace hyped-up jingles. "Saltspring has an amazing amount of people who worked in radio. It's a ridiculously high percentage," Mr. Brooks said.
As promised in the application to the CRTC, CFSI won't play Top 40 music. Classical, jazz, blues and folk will be the core music programming. The station also wants to feature new artists and has promised to eventually fill 50 per cent of the music slot with Canadian content. "It seems like every second person here has musical talent," Mr. Brooks said.
Mr. Moses has amassed several dozen CDs made by Saltspring musicians.
Randy Bachman, former rock star and now CBC radio host, might be persuaded to move his show closer to home. Artist Robert Bateman would make an eloquent radio voice.
CFSI will also spread the word when such emergencies as fires occur, a service that has been dangerously lacking on the 185-square-kilometre island.
High-school students will be invited to produce shows about issues they find relevant, said Mr. Brooks, 56, who has two children, 11 and 14.
Born and raised in New York, Mr. Brooks was known as the Chile Guy when he ran a successful chili pepper business out of New Mexico and Mexico. In financing the station, he put up at least $100,000 to get it off the ground and on the air, and at least another $100,000 to run it for one year.
The partners hope that advertising revenue and volunteer staff will help CFSI break even. They conservatively predict revenues of $130,000 in the first year. "This is a labour of love," Mr. Brooks said.
But the new radio station has already brought some static.
About 70 people signed a letter saying they don't want CFSI's proposed 33-metre tower and 1,000-watt transmitter on Mount Belcher, said Rick Laing, a building contractor who has lived on the mountain for 25 years.
While he's not against the radio station, there are concerns that the tower is unsightly, will lower property values in the rural neighbourhood and may cause health problems.
"It's not scientifically proven, but it [a tower] can be dangerous to birds' health and disorienting to animals," Mr. Laing said.
The municipal government must give its blessing to the tower site, Mr. Brooks said, and he expects it will, since Industry Canada has already approved it. There are at least two other potential tower sites in the same geographical position that could be used, Mr. Moses added.
As it happened, after residents spent about 15 years trying to bring a station to Saltspring, a competing bid was made in January, two months before CFSI's.
But the CRTC considered the first bid's business plan to be flawed, while CFSI had a "viable" plan and the "financial capacity to fulfill its plan."
In October, the CRTC awarded a seven-year licence to CFSI.
"It's going to be full-tilt boogie," Mr. Brooks predicted.
Update April 2013 from Radio West
CFSI 102.1/107.9 is now branding itself as "Green FM 102.1 + 107.9″ and has a new website and logo to match:
GREEN FM WEBSITE
Now under ownership by Satnam Media, 'Green FM' still operates as Salt Spring's community station with a continued musical emphasis on Category #3 music – local Salt Spring artists, world-beat, folk, jazz, blues & classical. Many shows by volunteer programmers are now moving to evening and weekend slots, but virtually all shows remain on air (including my own). New owner Sukhev "Dave" Dhillon has kept Dave Gordon on as station manager, Bobby Magee now handles sales, & Rob Pingle remains as Music Director and webmaster. The mood at the station amongst management, programmers and advertisers is an upbeat, positive one as the station rebuilds from all the damage done by the previous owner and moves forward daring to go where few radio stations dare tread!!
(thanks to Sky Valley Radio for the above)